Regarding the topic additive manufacturing, often referred to as 3D printing, a constantly growing range of laboratory equipment is available. Here, various production methods can be used by specialized and hybrid machines.
In addition to the actual printing technology various peripheral devices are available for the pre-and post-treatment of printing samples. The printing tests of the stages 1 and 2 can be performed either in our laboratory under UV-protective conditions, or in a climate laboratory with additional environmental control.
Printability Tester
For small amounts of fluid and substrate printability testers for all common printing methods are available at the IDD. These machines can perform first material tests and conclusions on the printability and film formation can be drawn. In addition, machine and printing form parameters can be obtained in a small scale, which can be transferred to the lab-scale machines.
The inkjet printing system DMP-2831 is a drop on demand system and it is used for printability tests on various substrates. The printing parameters can be adjustment to the properties of the used fluid and the generated droplets can be analyzed with an integrated camera system.
Technical specifications:
Printing format: A4
Substrate thickness: up to 50 mm
Resolution: 200 – 5000 dpi
Temperature: up to 60°C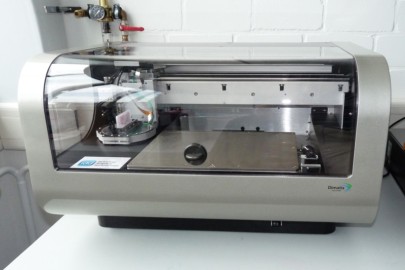 The superproofer is a gravure printability tester with excellent register accuracy of about +- 10 µm. This is possible via a gear concept using a single motor drive. Printing can be done on flexible substrates like foil and paper or on rigid substrates like glass and silicon wafers. The transportation of the substrate is shuttle based. Printing forms are made in sleeve technology and can be manufactured in different gravure technologies. The fluid and substrate consumption is very low. The parameters affecting the printing quality like doctoring force, doctoring angle, impression force and printing speed can be varied in a wide range.
Technical specifications:
Format: 150 mm x 50 mm (L x W)
Print speed: 0,3 – 3,5 m/s
Printing force: up to16 N/mm
Doctoring force: up to 2 N/mm
Register accuracy: < 10 µm
Substrates: Foils, glas, silicon wafers, paper, cardboard, etc…
The IGT F1 is a printability tester for flexographic printing on flexible and bending resistant materials. For the investigations anilox rollers with different cell volumes and screen frequencies are available. All common types of printing plate can be used.
Technical specifications:
Substrates: paper, paperboard, foil, silicon wafers, glass
Printing speed: 0.2 – 1.5 m/s
Printing width: up to 40 mm
Printing length: up to 530 mm
Printing force: 10 – 500 N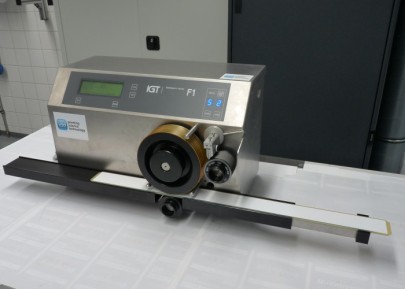 The IGT G1-5 is a gravure printing machine for small substrates. A gravure cylinder performs its rolling motion on a flat substrate carrier. This concept allows the imprinting of rigid substrate materials with thicknesses up to 4 mm. The printing speed is adjustable to 5 different and the printing force to 18 different levels.
Technical specifications:
Printing speed: 0,2 – 1,0 m/s
Printing force: 100 – 1000 N
Format: 45 x 200 mm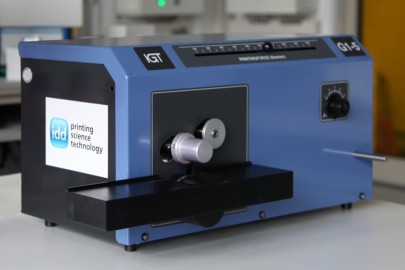 The AIC2-5 is a printing proofer for offset to test the printability for flexible substrates such as foils or papers. On this device both convetionell offset-inks and UV-inks can be used.
Techical specifications:
Printing speed: 0,2 – 5 m/s
Substrate thickness: < 4 mm
Printing force: 50 – 1000 N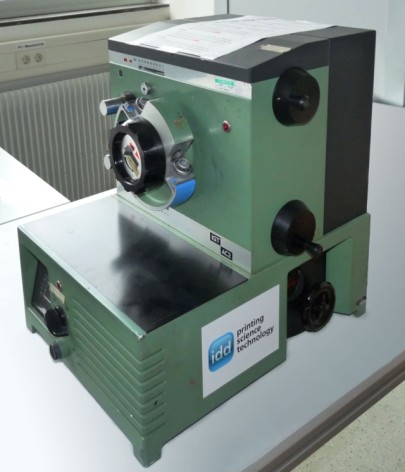 With this Printability Tester different substrates such as film or paper can be printed. The device has a flat printing plate, which reproduces the image by means of a mobile carriage. The carriage can be equipped with a gravure printing or a flexographic printing attachment. The doctor blade angle, the pressure of the doctor blade and the pressure roller can be changed. The speed is adjustable by a potentiometer in 10 steps.
Techncal specifications:
Printing speed: 0,1 – 0,8 m/s
Format: 220 x 130 mm
Amount of Fluid: 1 – 2 g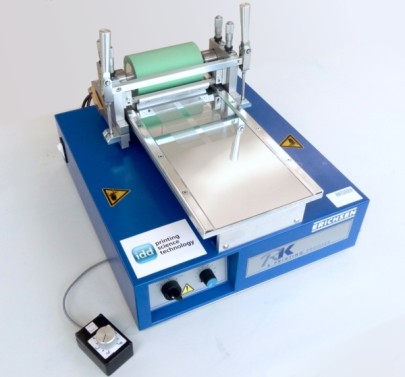 With this hand printing device different substrates can be printed quickly and economically on the basis of flexographic printing. Substrates with the length of 50 to 70 cm can be coated with the fluid application of 2 to 3 ml. The pressure between anilox roller and rubber roller can be adjusted by two micrometer screws.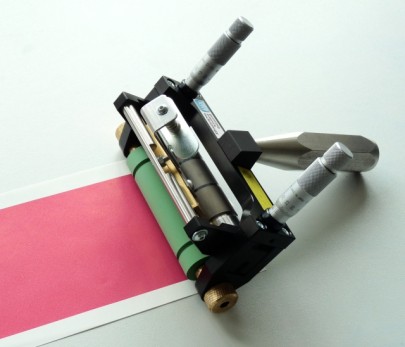 The drop on demand inkjet printing system PiXDRO LP50 is a desktop class printer, which was designed to meet the demands of research and process development of inkjet printing processes. Currently the printer may be used with S-class printheads from Fujifilm Dimatix. The printheads with 128 nozzles and drop volumes reaching from 30 pl to 80 pl allow for resolutions of up to 900 dpi. The automated rotatable substrate table enables printing on substrates with register accuracy.
Technical specifications:
Printing format: 227 mm x 327 mm
Substrate thickness: up to 25 mm
Printing velocity: bis zu 500 mm/s
Temperature: up to 90 °C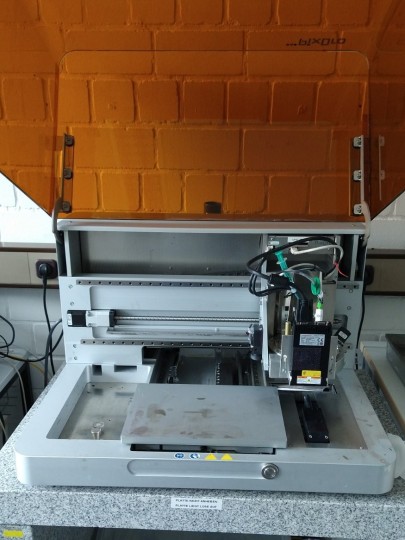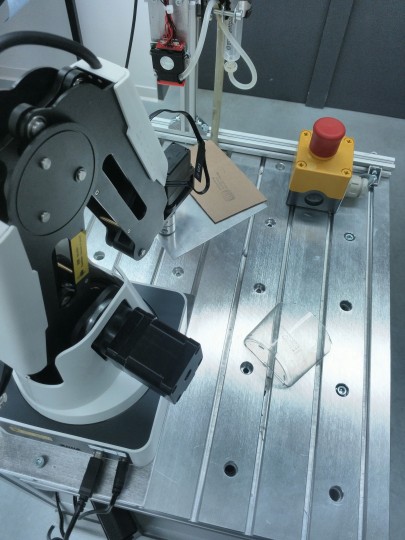 The KUKA Ready2educate_advanced robot platform is based on the KUKA KR 3 Agilus 6-axis robot. An inkjet device is installed in the robot's installation space by the IDD, which enables printing on curved surfaces. A piezoelectric XAAR 1003 drop-on-demand print head with drive electronics from Global Inkjet Systems is used. While the inkjet printing unit is fixed in the installation space of the robot, the surface of the object to be printed on is guided along the print head by the robot. Due to the high position repeatability of the robot (±0.02 mm), multi-pass inkjet applications are possible.
Robot: KR 3 AGILUS (KR 3 R540)
Range: max. 541 mm
Nominal load capacity: 3 kg
Position repeatability: ±0.02 mm
Number of axes: 6
Robot installation area: 179 mm x 179 mm
Weight (only robot without controller): approx. 26 kg
Robot controller: KR C4 compact
Print head: XAAR 1003
Print head control: Global Inkjet Systems PMB-C2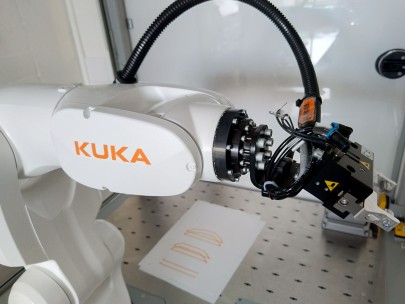 Lab-Scale Printing Machines
For printing tests on substrates in the range of DIN A4 the IDD uses lab-scale printing machines. In contrast to the printability testers the laboratory printing machines are distinguished with a more elaborate design. They often contain components that are also used for production machines, such as a sheet conveyance. In some machines an operation under continuous printing conditions is possible. With these machines whole areas and even complicated structures can be printed, which enables the production of demonstrators.
The FLP-21 is a Flexographic lab-size printing machine for printing on different substrates in the format of DIN A4. Miscellaneous printing fluids, substrates and printing plate materials are suitable.
Technical specifications:
Substrates: paper, paperboard, foil
Printing speed: up to 1.5 m/s
Printing width: up to 210 mm
Printing length: up to 300 mm
Anilox roller: 60 – 500 L/cm (60°)
The Pad-Printing machine TPU 250 from Teca-Print AG (sponsored by Franz Binder GmbH & Co. Elektrische Bauelemente KG) with an open ink system is suitable for printing on curved and uneven surfaces. A flexible intermediate pad transfers the ink from the printing nips of the flat printing plate and transfers it to the object to be printed, which is positioned on the printing table. The printing speed can be controlled. The pressure force for ink pick-up and delivery is regulated by an electronic control.
Technical specifications:
Drive: pneumatic
Control: electronic
Size of printing image: max. Ø 80 mm
Size of cliché table: 250 x 100 mm²
Ink application: single- or multiple printing
Procedure method: single cycle or endurance run
Printing performance "n": infinitely variable by pneumatic throttles
Maximum n/h: 1400 (open system)
Printing force: 680 N
The FT150 gives opportunity to print functional materials using two different printing techniques. The printing format can be as large as 150mm x 300mm for both printing techniques. The FT150 is the only printing press worldwide that is able to print under saturated solvent atmosphere, thus allowing to directly influence the fluid deposition of the printed material. The process is based on a manual sheet-to-sheet shuttle system, which can be used with either flexible or rigid substrates, such as glass or silicon wafers. For process engineering the fluid can be dosed directly on the doctor blade (approximately 2ml), or by dosing 40ml into the ink reservoir.
Technical specifications:
Printing under solvent atmosphere

Toluene
Anisole
o-Xylole
Methy-Ethyl-Ketone
Methylbenzoat
Ethylene glycol
Isopropanol
Acetone
Tetrahydrofurane
Chlorobenzene
o-Dichlorobenzene
Water

Temperature adjustable printing cylinders ranging from -15°C to 50°C
Printing format: 300mm x 150mm
Printing speed: 0,3m/s – 3m/s
Printing on flexible and rigid substrates
Printing techniques: gravure- and flexographic
Register accuracy: < 100µm
The IDD pad-printing machine is basically build up on an industrial machine. It is improved and developed for the investigation of the influence factors on the indirect gravure printing process. The high-precision Kollmorgen servo-drives in combination with a National Instruments cRIO-System and LabVIEW Software with a graphical user interface enable a high repeat accuracy and a wide range of different printing rates. Additionally the substrate force, printing plate force, printing velocity (speed) can be measured. The IDD pad-printing machine can be used for printability tests on various substrates with different shapes and thicknesses. In addition of printing force control on the vacuum table, other printing parameters such as velocity, printing time, ink-absorbing time from the cliché and force can be controlled. The servo-drives can be adjusted for working in linear speed or user defined curve speeds (non-linearity velocities).
Technical specifications:
Size of cliché table: 100 x 210 mm
Size of the print image: max. Ø 80mm
Drive: Electromechanical
Maximum printing force on substrate: 980 N
Vertical cylinder speed: linear and non-linear 660 mm/s
Horizontal cylinder speed: Linear and non-linear 270 mm/s
Adjustable Vacuum Table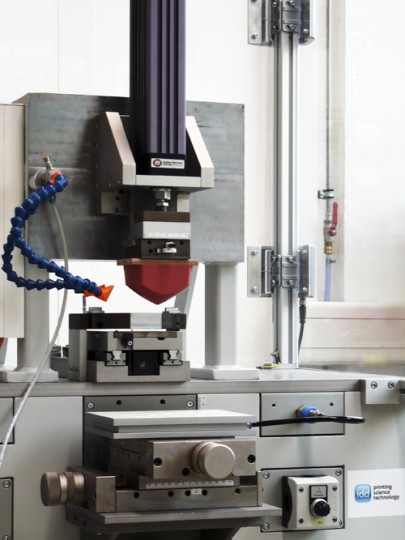 The screen printing machine of the K15 series is designed for printing on flat materials with medium to high viscosity fluids. The entire screen frame mounting is translational (x, y) and rotative adjustable. Other parameters such as squeegee angle, squeegee pressure and printing speed can be varied.
Technical specifications:
Printing speed: 0.1 – 1.0 m/s
Printable face: 120 x 120 mm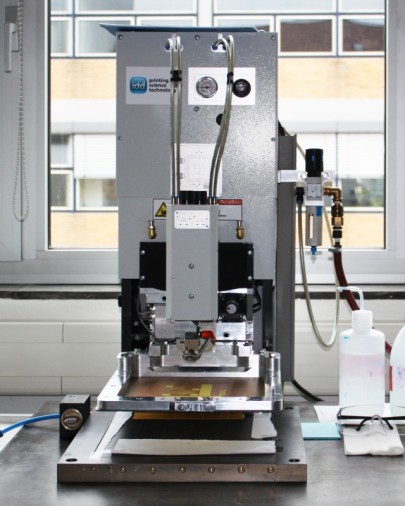 The Rotaprint R38 is a one-color offset printing machine with a short colour deck. The inking and dampening unit is built in a way to avoid sweeping during the printing process. Because of the oscillation of the ink the canal bash is almost invisible. The printing machine can be used for conventional offset inks. A powder pollinator is integrated.
Technical specifications:
Maximal paper size: 356 x 510 mm
Minimal paper size: 148 x 105 mm
Grammage: 30 – 350 g/m²
Maximal printable area: 331 x 485 mm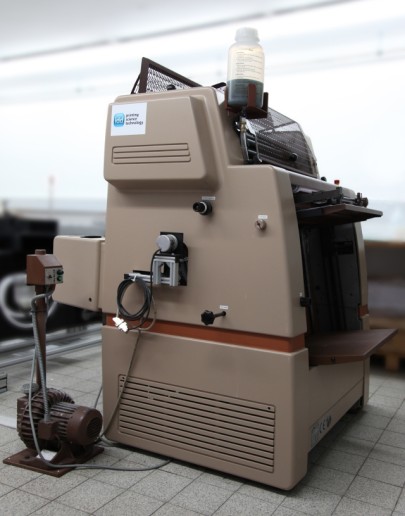 By utilizing heat and pressure the hot stamping machine Baier Geba6 can transfer different foils onto substrates (up to A4 size). Parameters such as stamping force, stamping temperature and stamping time can be adjusted. The machine has a foil advance system, pressure and temperature measuring systems and an automatic precision sliding table. The device is primarily used for printing electrically conductive materials on foils (foil substrate).
Technical specifications:
Stamping Force: 0 – 40 kN
Stamping Surface: 210 x 300 mm
Stamping Time: 0 – 9,9 s
Heat Output: up 3,3 kW
Flat and round substrates can be processed with the flat and round printing screen printing machine TIC SCF 260 BE. Parameters such as squeegee pressure, squeegee angle, printing speed and snap-off distance can be varied.
Technical specifications:
• Max. print format, flat: 130 mm x 260 mm
• Max. print format, round: 100 mm diameter
• Frame format: 450 mm x 250 mm x 26 mm
• Print speed: 1300 prints per hour
The HDT4000 Advanced Screen Printing Carousel is used for the manual printing of textiles and other flat substrates. The screen frame holder can be finely adjusted in translation (x, y) in order to achieve a very precise and precisely fitting four-color print.
Technical specifications:
• The substrate table is 55 cm x 45.5 cm (LxW). The printing works with standard screen printing frames of size 61 x 51 cm, 51 x 46 cm or 43 x 35 cm
• The substrate table is not rigidly mounted and can be moved back and forth in a few simple steps.
• The screen printing frames can have profiles from 2 cm to 4 cm thickness.
• For thick, heavy textiles or flat objects such as plates or cardboard, the brackets of the screen frame can be adjusted by 2 cm in height. For plastisol prints or paper printing the snap-off distance can be varied.
• Due to the height adjustment, the screen printing frame always lies flat on the print medium.
• The ball-bearing rotary module enables efficient, wobble-free and fast work.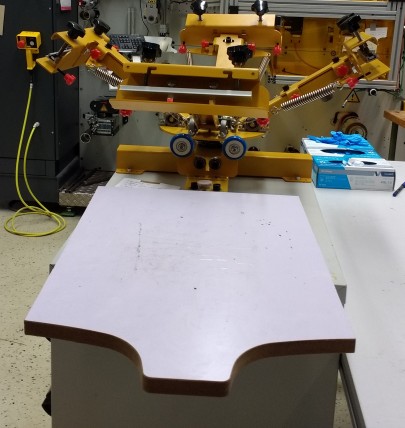 Inline Printing Presses
The third level of the printing laboratory covers the industrial production of printing products using all conventional printing processes. If printing tests have been successful with printability testing machines and laboratory printing machines (stages 1 and 2), such tests can be run in an inline-process.
In the industry the Gallus RCS 330 is mainly used for label printing. This especially for printed functionalities configured printing press is worldwide unique because of the following features. All included printing processes (flexography, gravure, screen, offset and ink jet) can be used contemporaneous and easily changed in its order. Thereby – apart from the differentiation of conventional and waterless offset printing – 325 different machine configurations are possible. Another degree of freedom is given by the possibility of printing different colors or materials. An "empty unit" after every printing unit offers in addition to the serial UV-curing units the possibility of a prior hot air / IR curing without changing the web track.
Technical Specifications:
Total length: 15 m
Total mass: 26,6 t
Real power: 50 kW
Format of printing processes: 18 Zoll (possible 12 – 24 Zoll)
Web width: 160 – 330 mm
Substrate thickness: 10 – 400 μm
Max. web speed: 160 m/min
Drive technology: Servo direct drives for all printing cylinders
Performance UV-curing system: 200 W/cm
Performance Hot air / IR-curing module: 24 kW
Printing processes:
Flexography unit: Use of printing plates and sleeve-technique
Offset printing unit: Conventional and waterless offset printing
Screen printing unit: Rotary screen printing
Gravure printing unit: Rotogravure
Ink Jet: Additional installed unit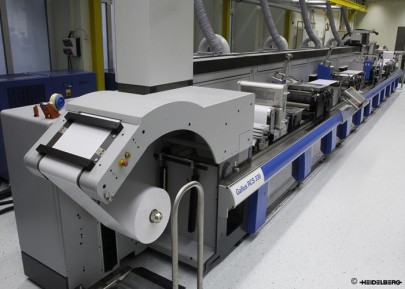 The KBA MePrint Premius is printing press for production used by industry to print on CD/Blu Ray-dics. With a special configuration the Premius prints with round shaped cylinders on a flat substrate, positioned on a vacuum table.
The printing press is equipped with two waterless offset printing units, in a four-cylinder configuration with a zone less inking unit. The given ink is temperature controlled, so that the printing width keeps constant.
Integrated flexo- and gravur printing units are equipped with a chamber doctor blade, which can be used with different printing fluids, by having at the same time low fluid consumption.
The flat screen unit is designed for printing on flat materials with medium to high viscosity fluids. The entire screen frame mounting is translational (x, y) and rotational adjustable. Other parameters such as squeegee angle, squeegee pressure and snap-off distance can be varied.
Technical specifications:
Format: 297 mm x 120 mm (L x W)
Printing speed: up to 2 m/s
Drying: UV, optional IR / hotair
Substrates: CD, BD, Foils, glass, silicon wafers, paper, cardboard, etc…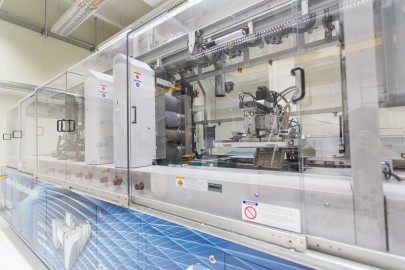 With the Coatema Smartcoater, 5 different application systems can be implemented. Materials can be coated with the following systems:
• Wide slit nozzle coating unit for thin liquid layers
• Squeegee coating unit for pastes or foam application
• Engraving printing unit
• Microroller system (full or spot coating) for hotmelt technology
• Impregnation unit (foulard system, plunge pool)
The working width is 100 mm up to 350 mm. A hot air dryer is integrated. A Corona pretreatment from Softal can also be installed.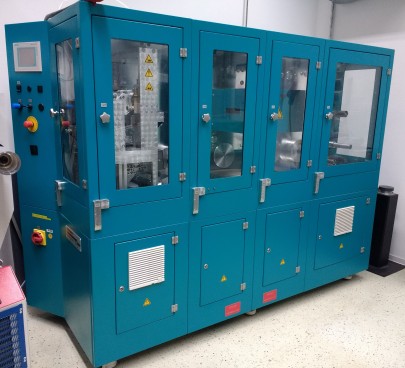 Peripheral Equipment
For a successful production of printing products there are, apart from the printing process itself, additional steps before and after the printing needed. For the optimization of the wettability different pretreatment methods are available. The printed sheets could be aligned on various shakers and cut afterwards. A dryer equipped with all established methods allows the hardening of various fluid types. For the generation of reference films a spin-coater is available.
In the Cressington Sputter Coater 108 Auto / SE samples up to 150 mm in diameter can be coated. A low-voltage plasma source with magnetic shielding is used to protect the samples from thermal influences. Thicknesses from 0 to 100 nm can be generated. Materials as gold and silver are available at the IDD. When required, other materials such as platinum, copper or mixtures of materials can be processed. The plasma current can be selected between 0 and 40 mA. Coating takes place under an argon atmosphere, the pressure can be chosen between 0.01 and 0.2 mbar. The sample distance can be adjusted. By the use of a mask structured layers can be generated.
To monitor the layer thickness, a thickness monitoring unit MTM 10 is connected to the Sputter Coater.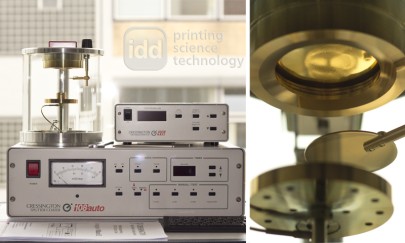 The spin-coating process is a deposition technique for liquids driven by rotation of a planar substrate. The thickness of the wet film depends on the fluid viscosity and the rotation speed, which is typically in the range of 500rpm to 4000rpm. In this way a precisely defined film with a thickness down to a few nanometers can be applied. The manual spin-coater POLOS MCD200-NPP (APT) is equipped with a microprocessor, a memory for max. 50 recipes, a range of rotation speed from 1rpm to 10,000rpm and can handle substrates up to 260mm of diameter. Different vacuum holders are available for foils and rigid substrates like glass or silicon sheets.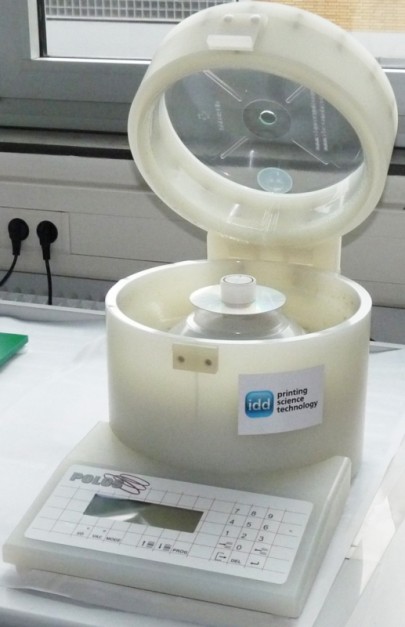 The corona and plasma system is used to pretreat sheets to improve the adhesion properties (increasing the surface energy) of polymeric films and foils before printing takes place. It can handle substrates up to a width of 30 cm
Furthermore, an AFS G05 Plasma Torch is available for plasma treatment of smaller substrates. It can also be operated separately from the corona system.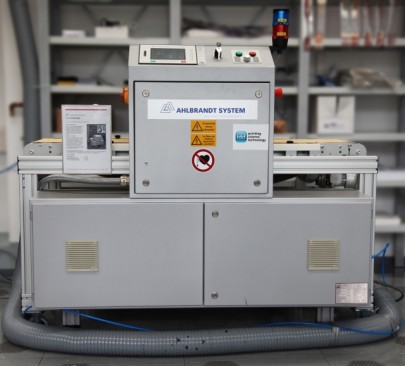 The drying system consists of a combination of a hot air and IR drying unit and a UV-curing unit. Each unit can be used separately for hot air and IR drying and UV-curing purposes or in a combination of each other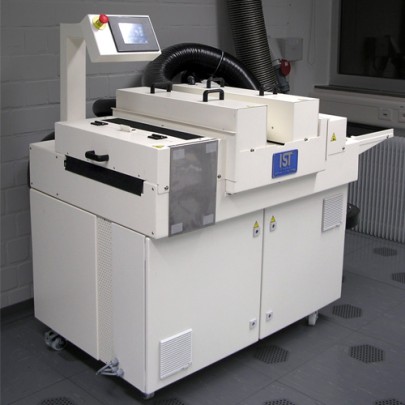 Novacentrix PulseForge is a lab-scale tool for photonic curing and sintering. Photonic pulse treatments enable sintering of printed metal layers on low-temperature substrates as foils. The first PulseForge 1200 in Europe was installed at TU Darmstadt in 2013.
Technical specifications:
Maximum energy delivered = 21 J/cm²
Maximum process speed = 30 m/min
Maximum area per sample = 300 x 150 mm
Emission spectrum = 200-1.500 nm
Pulse length range = 25-10.000 µs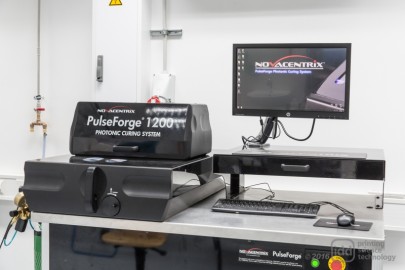 Oven with air circulation for coated materials. Turbulent air circulation produces good and constant heat transfer onto the coated layers in the drying chamber. A part of the air flow is continuously led away by an additional ventilator. Occurring low pressure feeds the chamber with new air. Thus, the vapor-air mixture is always under the explosion limit.
Technical specifications:
Inside dimensions: 600/900/600 mm B/H/T
Carrying capacity: 150kg
Minimal exhaust air flow rate: 138 m³/h
Reduced exhaust air flow rate: 35 m³/h
Entire vapor space: 0,502 m³
Nominal temperature : 250 C°
Temperature limit: 350 C°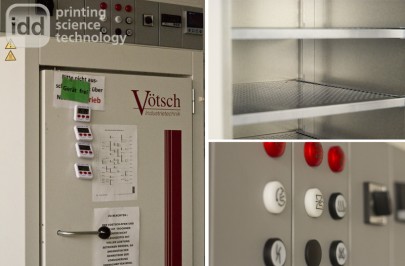 The automatic film applicator can produce fluid films with different coating methods. These fluid films are applied as reference layers, for material characterization or for the fabrication of devices. Coating with fluids on flexible foils, paper or rigid substrates like metal or glass sheets is possible. The coating speed is adjustable between 0,005 and 0,5 m/s, a hot plate for temperature control (up to 150°C) or drying is integrated.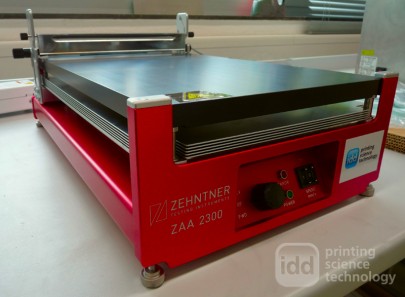 The STR4 of the company Baumann Maschinenbau Solms is usable in left- and right-hand lay. It serves for aligning and jogging of printed sheets by an easy operation. The jogging system is easy adjustable with an unbalanced weight. The table's tilting angle is infinitely variable.
Technical specifications:
Format: 740 x 1080 mm
Height min./max.: 700 / 870 mm
Weight: 68 mm
The jogger 43 x 43 ST of the company MüRo is designed for left- and right-hand lay and is usable for aligning and jogging of printed sheets by an easy operation. The jogging system is adjustable by a unbalanced mass and the speed of the actuator. The table's tilting angle is infinitely variable.
Technical specifications:
Format: 430 x 430 mm
Height min./max.: 750 / 950 mm
Weight: 36 kg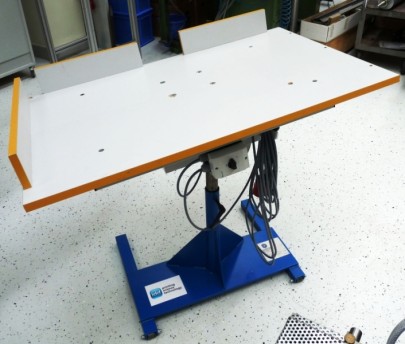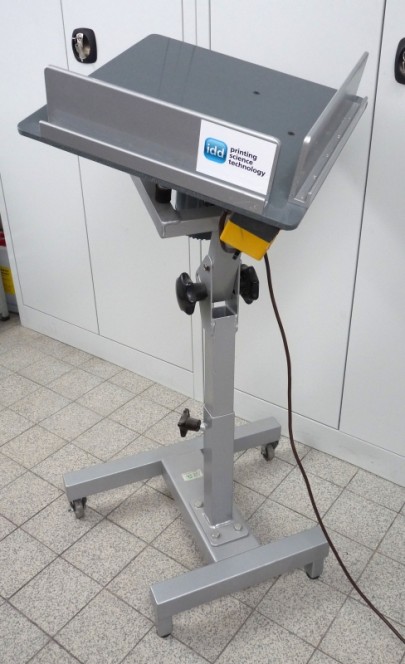 The half-automated vacuum plasma tool Nano (Diener Electronic) is suitable to activate, clean and etch different kinds of substrates. In the vacuum chamber that accommodates substrates up to DIN A4 a high-voltage supply with a frequency of 40kHz and a power of max. 1000W generates a plasma using oxygen, nitrogen or argon. The working pressure is typically of the order of 0.4mbar. Choosing appropriate parameters the plasma increases the wettability of an ink on the substrate for subsequent printing steps. Organic contaminations are almost completely removed by the plasma.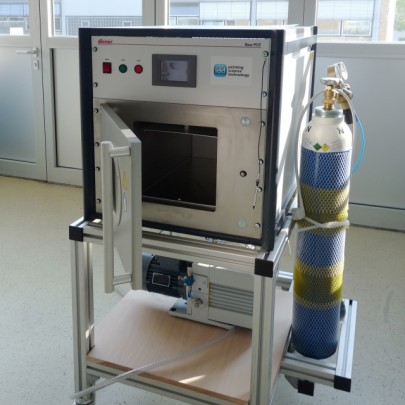 This "cold" illumination source serves for exposing small areas with high intensive UV-A radiation. The Spotlight is used to polymerize UV-curing inks on printing samples produced with printability testing machines and for the UV-measuring cell of the HAAKE MARS rheometer.
Technical Specifications:
• Type of radiation: UV-A
• Irradiation power: up to 15,000 mW/cm³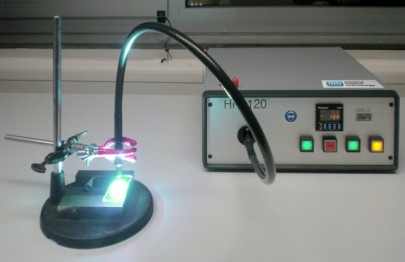 The laser control unit is specially produced by KBA-Metronic for IDD. The special feature of the system is that two different types of lasers are inserted in a box and operated by a control system. The laser system F-9020 has a fiber laser and can mainly be used for the treatment (cutting, color change) of metals. The CO2 laser control unit built in the system K-1030 SHS is mostly used for structuring and processing other types of organic materials and coated metals.
Characteristics:
Max. power of the fiber laser: 20 Watt.
Max. power of the CO2 laser: 30 Watt.
Max. working surface: 100×100 mm.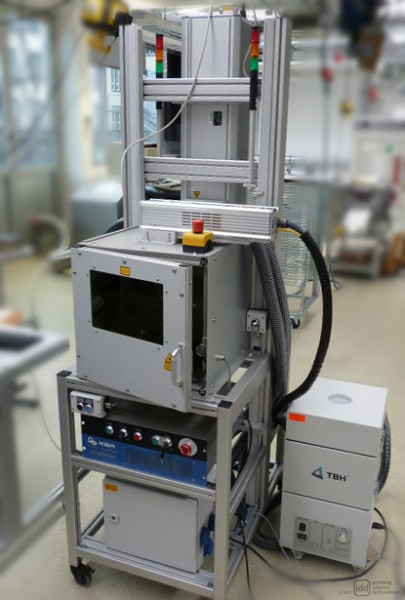 The Perfecta ECO Line 78 guillotine cutter available at IDD has a cutting width of 780 mm and can therefore be used up to B2 format (500 x 707 mm).
Technical specifications:
- Cutting width: 780 mm
- Insertion depth: 780 mm
- Application height: max. 130 mm
- Press force: 35,5 kN
- Residual cut, without cover plate: 20 mm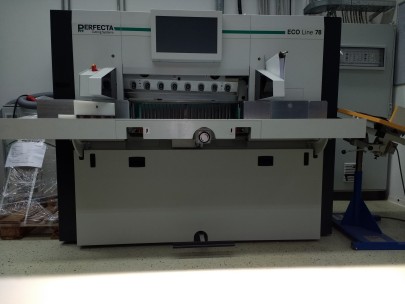 This infrared dryer is used for intermediate drying and final fixing of plastisol- and water colors for textile printing.
Technical specifications:
• Infrared heating plate 46 x 46 cm
• Irradiation: 2200 watts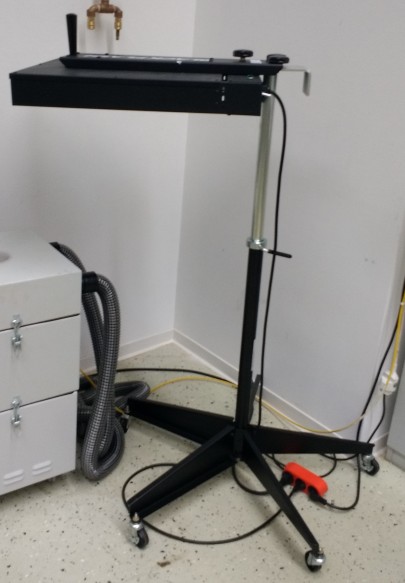 With the toggle lever transfer press Secabo TC 7, texts, images, logos or fashionable motives can be transferred to textiles, with the help of transfer films.
Technical specifications:
• Working area: 40 cm x 50 cm
• Max. working pressure: 250 g / cm²
• Max. folding angle: 40°
• Max. temperature: 225 °C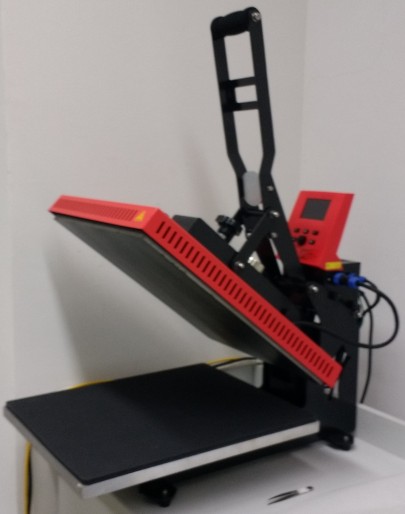 With the Graphtec tangential cutting plotter CE6000-40 plus, texts, images, logos or fashionable motives (vector files) can be cut into transfer foils. With its servo motors, fonts of 2-3 mm in height can be cut or perforated from flex and flock foils. With the register recognition system ARMS 5.0, precise contour cuts can be made.
Technical specifications:
• Max. cutting area: 375 mm x 50 m
• Max. substrate width: 484 mm
• Min. substrate width 50 mm
• Max. cutting speed: 600 mm / s
• Max. cutting force: 4.41 N (450 g)
• Substrates: Self-adhesive labeling foils, vinyl and polyester foils up to 0.25 mm thickness